Sage Magdalene
Sage Sophia Magdalene is an artist creating experiences that promote radical shifts of consciousness leading to generous, generative, Earth-loving practices of ecological reciprocity. She designs collaborative international gatherings, performances and demonstrations that encourage cross-species communication and initiate quantum shifts in humanity's capacity to respond creatively and compassionately to current planetary crisis situations. Sage is a guide and trainer for Animas Valley Institute, an organisation dedicated to supporting the underworld journey to soul initiation for present and future generations. She has a keen gift for hearing and reflecting the deep stories of many beings. She invites people to thresholds and opens gates between worlds. She has been an educator, artist, dancer and gate keeper in many ecosystems. Her greatest joy is to hear and converse with the wild others: moon, spider, frog, human, river and stars. She brings a light touch and embodied wisdom to the serious work of transformation. She lives in the Pojoaque River valley, northern New Mexico, USA. http://sagemagdalene.com/
Doug Van Houten
Doug draws on the wisdom of the moon, the natural world, dreams, somatic knowing, images, poetry, depth-psychology, eco-psychology, and many pan-cultural, soul furthering practices that includes: symbolic artwork, vision fasting, trance dancing & drumming and conversations with the more than human world. Doug's true calling in life is to support others as they uncover their own unique gifts and in so doing, transform their lives in service to what Thomas Berry calls "The Great Work" of our times. Doug is also an ardent beekeeper, a visual artist, a wily wanderer, a dream tracker, an emergent ceremonialist, a heart-centered activist, and a budding yoga instructor interested in new forms of yoga and somatic practice. https://ww.bodyartsoul.org/
Bill Plotkin, Ph.D.
Bill is a depth psychologist, wilderness guide, and agent of cultural evolution. As founder of western Colorado's Animas Valley Institute in 1981, he has guided thousands of women and men through nature-based initiatory passages, including a contemporary, Western adaptation of the pan-cultural vision quest. Previously, he has been a research psychologist (studying non-ordinary states of consciousness), professor of psychology, psychotherapist, rock musician, and whitewater river guide.In 1979, on a solo winter ascent of an Adirondack peak, Bill experienced a call to adventure, leading him to abandon academia in search of his true calling. Bill is the author of Soulcraft: Crossing into the Mysteries of Nature and Psyche(an experiential guidebook), Nature and the Human Soul: Cultivating Wholeness and Community in a Fragmented World (a nature-based stage model of human development through the entire lifespan), and Wild Mind: A Field Guide to the Human Psyche (an ecocentric map of the psyche — for healing, growing whole, and cultural transformation). He has a doctorate in psychology from the University of Colorado at Boulder.
Geneen Marie Haugen, Ph.D.
Geneen Marie Haugen grew up a little wild, with a run-amok imagination. As a guide to the intertwined mysteries of nature and psyche, she delights in multidimensional listening, and in offering perceptive questions, ceremonies, escapades and reflections that help expand a sense of our own possibilities as individuals (and as a species), and deepen our experience of participation with an intelligent, animate Earth/cosmos. Her writing has appeared in many anthologies and journals, including Spiritual Ecology: The Cry of the Earth; Thomas Berry: Dreamer of the Earth; Written River; Parabola Journal; Kosmos; Langscape; and The Artists Field Guide to Greater Yellowstone (forthcoming). A former tipi-dweller and whitewater river guide, she now lives amidst the creatures and features of southern Utah's sandstone labyrinth. She is committed to the world-transforming potential of the human imagination in collaboration with the Earth community.
Rebecca Wildbear, M.S.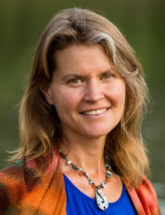 Rebecca is a river and soul guide, compassionately helping people tune in to the mysteries that live within the wild Earth community, Dreamtime, and their own wild Nature. She gently ushers people to the underground river of their greater story, so they may surrender to their soul's deepest longing and embrace their sacred gifts, live a life of creative service, and rediscover their deep belonging to the Earth community. A therapist and wilderness guide since 1997, Rebecca utilizes her training and experience with yoga, meditation, Hakomi, and somatic psychotherapy to support individuals in discovering and manifesting their soul gifts. She also leads Animas programs and is on the faculty of Nosara Yoga Institute in Costa Rica. Rebecca is the creator of Wild Yoga™, a sacred way of breathing and moving, aligned with Earth and Soul.
http://www.rebeccawildbear.com/
 Brian Stafford, MD, MPH
Brian Stafford is a guide to the wilderness of nature and soul. He was called out of academic medicine to serve as a guide to the depths and to serve as an agent of cultural awakening and transformation. He guides with humour, playfulness, compassion, discernment, and a deep remembering of the fullness of what each human life can, should, and was meant to be. A native of Colorado and the former holder of an endowed chair and professor of psychiatry and pediatrics, he is an avid outdoorsman, teacher, writer, mentor, partner, and parent. He guides individuals and groups in the Colorado River Basin as well Nosara, Costa Rica, to the place they most long and fear to go – the numinous depths of their soul. Brian currently makes his home in Ojai, California. https://eco-psyche-artistry.com/brian-stafford/